Available Boats: Elevation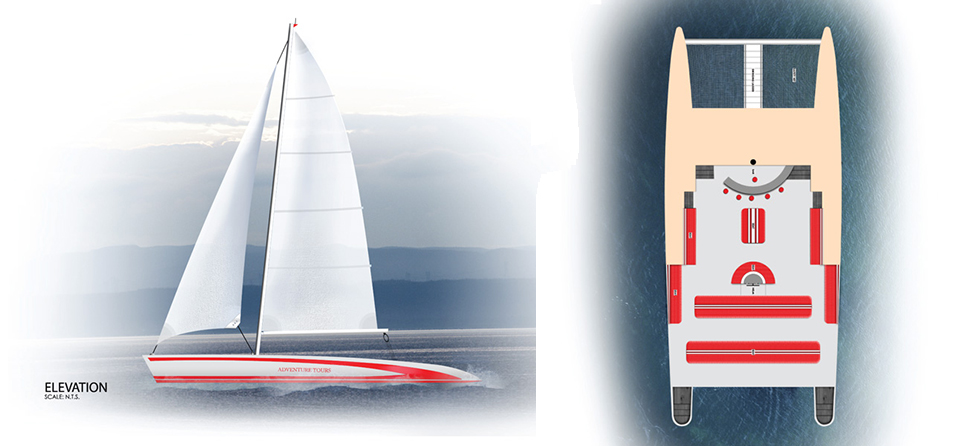 WE ARE PROUD TO PRESENT OUR NEW 70 FOOT DAY CHARTER CATAMARAN – "ELEVATION".
We can deliver this sleek, sailing vessel anywhere in the Caribbean. Note: The solid canopy is not shown here. Download Floorplan. Read full specs below...
View the KonTiki Raft
TECHNICAL SPECIFICATIONS
"ELEVATION"
Designer ---------- Doug Brookes
Builder ------------ Fortress Marine Ltd. 

Principal Dimensions
LOA -- 70 feet
LWL -- 64 feet
Beam- -- 0 feet
Draft -- 6 feet
Displ -- 8 tons
Sail Area -- 1200 sq. feet
CONSTRUCTION
• Hulls are kiln dried Douglas Fir, stripped planked sheathed inside and out with double bias 45 deg. 905G/sq.-metre.
• Lloyds of London approved method of construction on previous boats.
• Bridgedeck, floors and decks are a combination of Brynzeel Marine Plywood, 20-year-guaranteed, Douglas Fir Timber, W.E.S.T.
• System Epoxy Resins and Additives and GRP.
• Skegs are plywood airfoil sectioned designed to break away if grounding occurs and the balanced rudders are foam tipped for the same reason.
• All fasteners are 316 Stainless Steel and Silicone Bronze.
• Painting using U.S. Paints (Awlgrip)
 
HARDWARE
Winches and blocks are HARKEN.
Portholes are LEWMAR.
Complete Steering System is by EDSEN.
Heads are HEADHUNTER ROYAL FLUSH.
2 CQR Anchor with 20 feet of 12 mm chain and 250 feet 7/8 twisted nylon, each.
Bow cleats are 305mm. Spring and stern cleats are 205mm.
ENGINES 
Twin Yanmars 4BY100  100HP with KMH40A Gear boxes with straight shafts through V'd struts. Classic Control System including twin control electronic levers, 3" tach and gauges. Total fuel capacity is 200 USG.
RIG 
Mast and Boom are by NEWJSI SPARS.
Mast is deck stepped and 65 ft. tall.
Rigging wire is 12mm 316 stainless steel.
End fittings are STAYLOCK.
Rigging Screws are Chrome Bronze. 
PASSENGER AREAS LAYOUT
Access to water and beach provided by two swim ladders located in the bow and stern. Some additional seating is provided on the fore deck. Main seating for 110 (one hundred and ten passengers) provided in main Passenger Cockpit which also has a circular bar. 75% of the seating is under cover. Fresh water deck showers are provided in close proximity to the swim ladders in the bow and stern. Three washrooms with head and face basin are provided.
Passenger area is covered from the mast, aft to the first awthwartship seat - with a solid canopy that allows crew handling of the mainsail as well. Roll down plastic sides and front are also provided. 34-inch high aluminum tube safety life lines run along the outsides of the passenger cockpit and across the aft deck. Safety webbing is provided between the hulls fwd and the front of the bridgedeck and the fwd cross beam. This is also used for lounging and sunning. 
ELECTRONICS
ICO/M422B Marine VHF with PA system
Mast head Antenna
Fluorescent lighting in hulls and Passenger Cockpit
Suitable lights in engine room
Tricolour/anc Mast head Navigation lights
Marine Stereo and multiple waterproof speakers
BLS/8068 Breaker Panel
Battery Selector Switch COH/M754
2 x 210 amp batteries for cabin lighting, electronics and accessories
2 x 300 amp batteries for engines 
PLUMBING
Pressure tank to supply deck showers, heads and bar.
2, 1500GPM SHU/133-0208-CP Bilge Pumps in each hull.   
SAIL INVENTORY
Jib: 504 sq. ft
Mainsail: 760 sq ft.
Both heavy duty Dacron with sail bag and mainsail cover.     
BAR
Large circular section Bar is supplied with pressurized fresh and salt water. If required soft drinks and beer are supplied by a Dispensing System - which can be installed and must be purchaser provided. 
GALLEY
Galley is situated in port hull fwd of companion way. It will be supplied with pressurized fresh and salt water and used mainly for preparation of precooked food and washing up. 
SAIL HANDLING 
• Mainsail is handled by either the Helm person or another crew member. It is controlled by a purchase system of Harken Air blocks from the end of the boom to either end of the seat behind the Helm, with a single sheet leading to one winch directly behind the Helm. (This does away with a track that is potentially harmful to passengers sitting on that seat.)
• Jib is controlled by one winch mounted on one side of the mast and handled by one crew person standing in the bar area. Sheet is lead to it by a Harken stand up block.